Mainstream Commercial Divers Successfully Completes a Formal Safety Audit
1.10.2017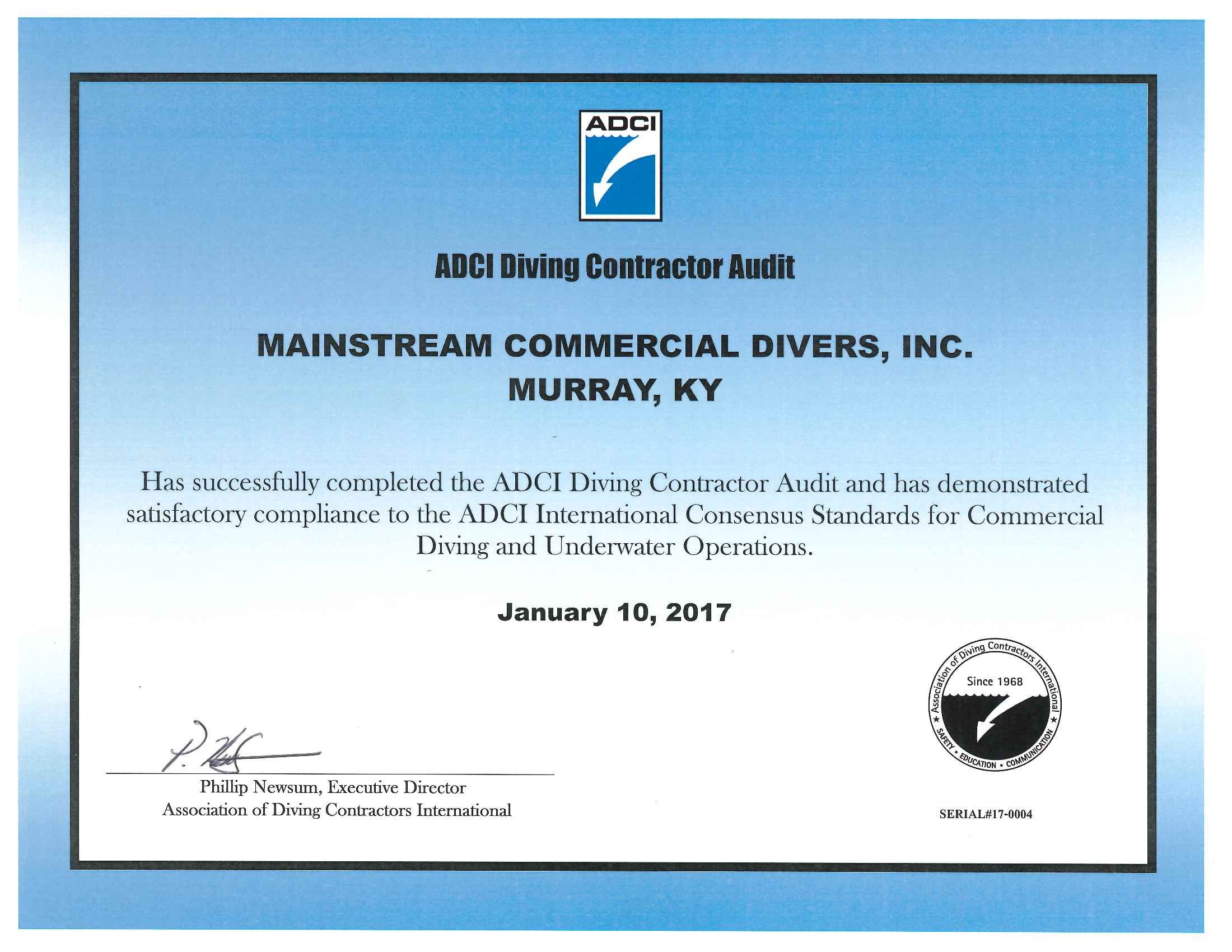 As a commercial diving contractor, MCDI is a member of the Association of Diving Contractors International (ADCI), a non-profit industry trade organization. In 1968 the ADCI was established to provide uniform safe standards for commercial diving operations and today, publishes the ADCI Consensus Standards for Commercial Diving and Underwater Operations which are recognized by both OSHA and the U.S. Coast Guard.
Since 2006, the ADCI has required all companies applying as General Members to undergo a formal safety audit. Additionally, the ADCI Board of Directors has now voted to require ALL existing members to submit to the same audit. The purpose of the safety audit is to define any areas of deficiencies related to the ADCI Consensus Standards for Commercial Diving and Underwater Operations and to help the audited company improve by offering direction and assistance to ensure that the company is complying with the Consensus Standards.
As acting president of the ADCI, MCDI's Vice President of Diving Operations, Craig Fortenbery, agreed to set an example among the industry and be one of the first General Member companies to undergo the formal audit process. During the month of November, MCDI hosted ADCI Executive Director, Phil Newsum and dive safety auditor, Jon Hazelbaker while they performed the formal safety audit of all dive equipment, dive gear, and MCDI's published documents such as our Dive Safe Practices Manual, Safety Manual, a typical dive plan, and Job Hazard Analysis. A diving operation was also performed as a part of the safety audit.
---
9/6/2016
Mainstream Commercial Divers, Inc. adds Structural Engineering Inspection and Design to their List of Services
«
previous
1/10/2017
Mainstream Commercial Divers, Inc. Announces Brand Consolidation with Eason Diving & Marine Contractors, Inc.
next
»